ProjectReady Enhances Process Management and Interoperability with PlanGrid Integration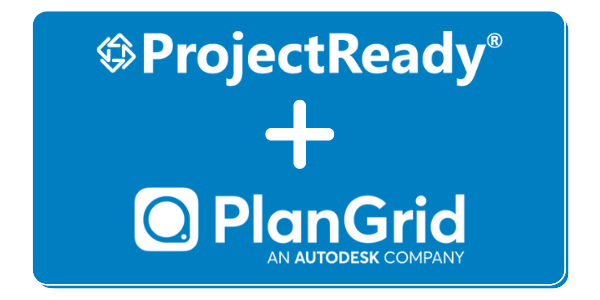 ProjectReady, a leading process management and project control solution for the architecture, engineering, construction and owners (AEC/O) industry, is proud to announce its latest integration with Autodesk Construction CloudTM and its field collaboration software PlanGrid®. With this integration, ProjectReady expands on its core mission and value to help clients solve one of the biggest challenges, risks, and expenses in the industry today: interoperability. 
ProjectReady's integration with PlanGrid compliments its already-established integration with Autodesk Construction Cloud's construction management software BIM 360®. ProjectReady and Autodesk Construction Cloud customers can now access simplified, repeatable, and governed user workflows to connect and manage project information across platforms, stakeholders and project's phases.  
The new integration can be set up in under five minutes and allows users to seamlessly use content from PlanGrid – and other systems such as BIM 360, SharePoint, and Box – to create, schedule, distribute and track document control workflows within ProjectReady. Additionally, users can surface and act on Issues and RFI's in PlanGrid from ProjectReady's comprehensive dashboards. Project managers, document controllers and many other project personnel across workflows can now have all the information and content they need at their fingertips, driving further efficiency. 
ProjectReady Chief Operating Officer, Kelly Doyle said, "The launch of our integration with PlanGrid is another step forward in ProjectReady's goal of driving interoperability and efficiency by securely connecting the multiple systems where project teams work. Building on our integration and partnership with Autodesk®, which provides widely used and adopted software for the AEC/O industry, is an essential piece in delivering that vision." 
"With a proliferation of data sources, document management and retention policies across disparate systems can pose complex challenges for construction companies," says James Cook, head of integrations at Autodesk Construction Solutions. "Connecting our solutions with partners such as ProjectReady can help our customers manage, automate, and streamline that complexity so they can remain focused on high quality project delivery."