Bringing it all together for the AEC/O, The Integrated Data Environment (IDE™)
Project Information Management spans platforms & phases. An individual phase may have a common data environment, but to truly make sense of a project across its full life cycle, you need a system of systems, an integrated data environment (IDE™).
By seamlessly connecting data, platforms, & common data environments employed from one phase to another, ProjectReady provides a single pane of glass & centralized way to manage projects & document control.
Manage and make sense of project information & communications across a projects phases, actors & systems with ProjectReady.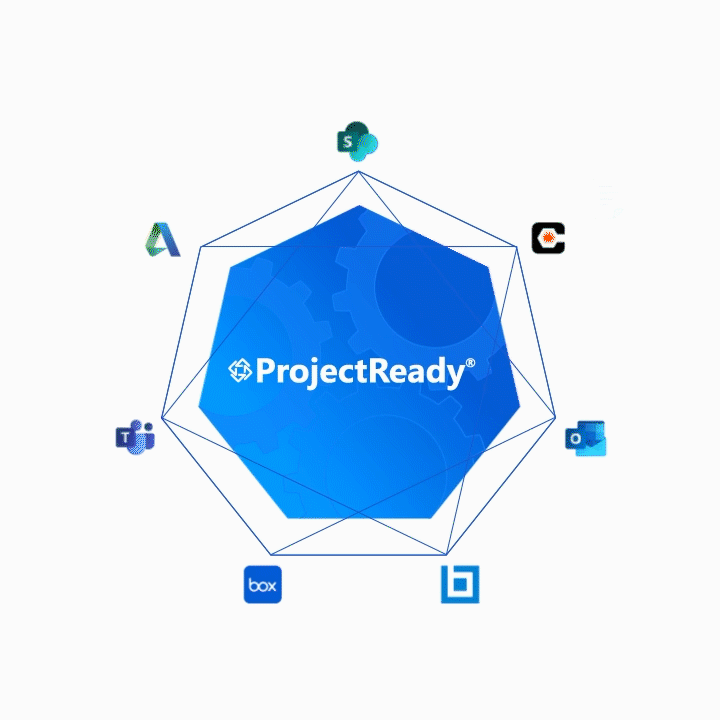 Cross-Platform Provisioning and Security
Reduce IT Administration costs on your project by 95% through self service automation
Build, connect, secure & govern SharePoint, Microsoft Teams, BIM 360, PlanGrid & Box for your project in under 5 minutes, reducing IT Administration
Secure access & governance across platforms
Cross-Platform Document Control
Easily build & manage RFI's, Submittals & Approvals with content, wherever it resides
(SharePoint, BIM 360, PlanGrid, Procore & Box)
Upload & register content to the right platform
Automate cover sheets, auditing & logging

Reduce time spent on Document Control by 76%
Schedule, track and manage document control tasks
Report, Search & Audit the full breadth of content
Full Control of Data & Content
Reduce risk through the synchronization & archival of content between SharePoint, Autodesk BIM 360 & Procore to ensure you're always in control of project content wherever it resides
Single Pane of Glass Across Platforms & Projects
View and manage project tasks & financials across platforms in a single view
Ensure your team knows what to do in one place, from inception to project turn over
Secure Internal & External Collaboration
Scalable layer for communications across platforms phases & companies
Integrate & control security within Microsoft Teams

Search across all your emails, tasks, platforms, projects & content
Easily find and make sense of information across all your connected systems
Comprehensive Auditability & Reporting
With everything you do connected, captured & stored in a secure framework, have a single source of the truth across your project lifecycle
Come see what we can do!
See why ProjectReady's unique approach to unifying content and information across systems saves you a ton of time and money – making it the future of Information Management & Project Communications in the AEC/O.
Projects trust ProjectReady
Reduction of IT Administration & Cost
Reduction in Time Managing Information & Document Control